Liposuction on the face and chin allows for gentle forming or removal of excess fat deposits. This gives the facial area a more harmonious and vital appearance. Even a double chin can be removed. The liposuction is done using special facial microcannulas. The result of the outpatient treatment in local anesthesia is immediately visible.
At a Glance
Surgery duration: 30 minutes to 3 hours (outpatient)
Anesthesia: Exclusively local anesthesia (tumescent anesthesia)
Sport: After 1 week at the earliest
Normal social activities: After a few days
Preliminary examinations: Blood test, further examinations depending on the patient's state of health
Compression: At least 36 hours
Incapacity to work: 1 to 2 days (according to area)
Check-ups: To be arranged on an individual basis
Our face is the most individual part of our body. Even if beauty is in the eye of the beholder and striking facial features can be particularly attractive, many men and women prefer to have a symmetrical, harmonious face.
Double chin, drooping eyelids and sunken cheeks often cause great distress for those affected.
Gentle Facial Modeling Without the Use of Scalpels
Liposuction with especially thin facial microcannulas can gently remove these local fat deposits. Your facial contours are modeled in a precise, harmonious way and your "always tired" facial expression disappears when the eye area has an open, fresh appearance. Sagging facial skin can be helped with a so-called microfacelift – no cuts are made to the skin with a scalpel during this procedure.
After detailed consultation and time for answering all your questions, you have decided to have liposuction performed and have scheduled an appointment with us at a date of your choice.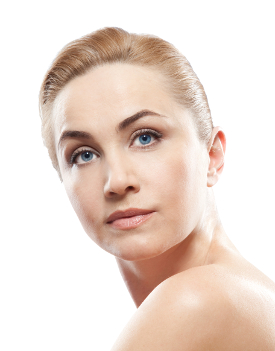 Facial liposuction can be carried out fairly quickly and always on an outpatient basis using local anesthesia. Only very thin facial microcannulas are used. We never use scalpels for facial treatment, since these cause permanent scars.
You have weathered the liposuction procedure after only approximately 1 to 2 hours.
The Period after Liposuction
After facial liposuction, you will normally only have to wear a bandage overnight. There may be some temporary swelling and bruising.
After facial liposuction has been performed, you will normally be able to go back to work on the day after surgery. Should you have any bruises, you can apply make-up over them the next day.
In cases of very small facial fat deposits, a fat-away injection (injection lipolysis) can help instead of liposuction.
All after photos show the results actually achieved by the treatment. To protect the anonymity of the depicted persons individual physical characteristics (e.g., moles, tattoos) might have been removed.